What Bollard Requirements are in UK Code?
If you're wondering what code requirements there are for bollards, read on for our breakdown of official UK Department for Transport advice.
Bollards are required in certain locations to mitigate criminal or terrorist vehicle-borne threats, but as they exist outside of the premises in areas with pedestrian access, there are some factors that you must bear in mind when installing them.




The following recommendations aim to help designers plan the location and arrangement of bollards to meet security and operational objectives, while minimising any negative impact on Route Capacity, Comfort, Convenience or Conflict:

The total width of a bollard array (measured from the outermost bollard structures) should be greater than the exit width being protected.

Locate bollards away from a site's natural pinch points, such as narrow passageways, to maintain existing levels of service.

Place bollards where they will maximise hostile vehicle stand-off but without forcing pedestrians to walk close to road edges.

Identify pedestrian desire lines by considering influential factors beyond the boundary of the site, such as public transport stations, large office buildings or tourist destinations.

Position bollards in lines that run perpendicular to pedestrian desire lines.

Avoid placing bollards in areas where pedestrian conflicts are likely to occur, such as spaces where pedestrian desire lines overlap or areas of limited visibility, especially along narrow passageways, or where stationary activity such as queuing occurs.

Consider height and visibility of bollards, particularly in low light conditions or during rush hour peaks where they can be obscured by a crowd.

Specialist site assessment may be needed in high or complex flow conditions.
Bollard Spacing Requirements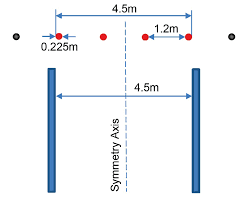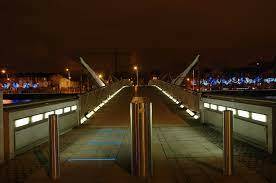 When considering the installation of bollards in the public realm, designers should take a holistic approach to ensure an appropriate level of physical protection is provided whilst minimising any negative impact on pedestrian movement.
Sites that experience high volumes of pedestrian use must accommodate movement safely, and at the required level of comfort and convenience. Many organisations take advantage of a variety of site assessment methods, including the use of pedestrian simulation software tools to integrate pedestrian movement analysis into their design process.
Findings from observation studies and literature reviews show that, under normal conditions, bollards spaced with air gaps of 1,200mm have a minor effect on pedestrian convenience, which includes making changes to body position or reducing speed for a short amount of time (less than a second). Under normal conditions pedestrian health and safety was not seen to be affected.
At ABC we can help!
If you're considering installing bollards at your location, give our team of experts a call. We will advise you on the perfect bollard configuration for your location that satisfies both your and governmental requirements. And you can click here to see our range of bollards and telescopic posts.